Jail Operations
Our Detention Division consists of a combination of Deputy Sheriffs and Detention Officers who operate and support a modern detention facility constructed in 1991.This 224-bed facility has all modern security systems, medical services, holding cells, suicide watch, four isolation cells, and an intoxication tank. Included in the design is a secure sally port for inmate intake, and an interior visitation area, with a phone extension at each window for conversations.
In addition to housing individuals on local charges, the Crisp County Detention Center is an approved federal housing facility, contracted to house inmates for the United States Marshals Service and the United States Bureau of Prisons. These contracts allow for savings in operating costs which would otherwise have to be paid for from local funds.
Crisp County Sheriff's Office is committed to the operation of a facility that will meet state standards and for the preservation of basic human rights of the inmate populations by the Constitution of the United States of America.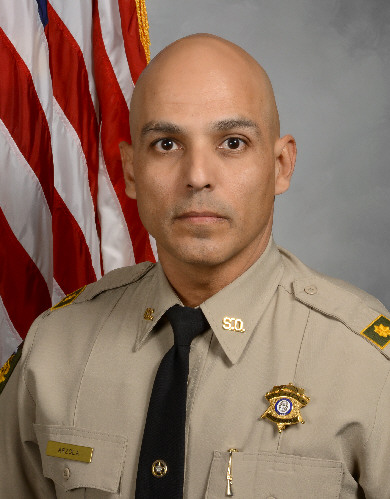 Jail Operations Major: Joey Arzola
Major Joey Arzola begin his career at Crisp County Sheriff's office in 2015. Major Arzola has worked in several aspects of Law Enforcement to include: Patrol, Tactical Response Unit (SWAT), Street Crimes, Gang Suppression Unit, Special Investigations Unit/Narcotics, Marine Patrol/Dive Team and Federal Task Force Officer with his previous agencies and came to the Crisp County Sheriff's Office as the Jail Administrator. Major Arzola has since been appointed to Director of Jail Operations. He is a graduate from the 269th Session of the FBI National Academy. Major Arzola has received training from Federal, State, Local and US Military Agencies. Major Arzola has received Training and has instructed Firearms, SWAT Tactics, Patrol Carbine, Sniper/Designated Marksman, Gang Investigations, Active Shooter Threat, Narcotics Identification/Investigations, Undercover Operations Survival, Officer Survival and Close Quarters Battle courses. He has received several awards from his previous agencies to include Medal of Valor, Life Saving Award, Officer/Detective of the Quarter 3rd Award, Outstanding Job Performance 4th Award, Humanitarian Award, Service Award and the United States Attorney's Office Public Service Award.