Jail Operations
Our Detention Division consists of a combination of Deputy Sheriffs and Detention Officers who operate and support a modern detention facility constructed in 1991.This 224-bed facility has all modern security systems, medical services, holding cells, suicide watch, four isolation cells, and an intoxication tank. Included in the design is a secure sally port for inmate intake, and an interior visitation area, with a phone extension at each window for conversations.
In addition to housing individuals on local charges, the Crisp County Detention Center is an approved federal housing facility, contracted to house inmates for the United States Marshals Service and the United States Bureau of Prisons. These contracts allow for savings in operating costs which would otherwise have to be paid for from local funds.
Crisp County Sheriff's Office is committed to the operation of a facility that will meet state standards and for the preservation of basic human rights of the inmate populations by the Constitution of the United States of America.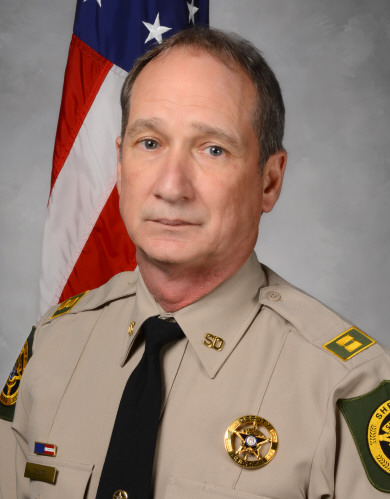 Detention Center Captain: David Childs
Captain David Childs is a lifelong resident of Crisp County. He graduated from Crisp Academy in 1979. After graduation, he joined the United States Army as Military Policeman. He was stationed in Pirmasens, Germany, for eight years. While in Germany, he was assigned as a Drug Suppression Agent to the Criminal Investigative Command.

He returned to Cordele, Crisp County, in 1985 when he began his career with the Crisp County Sheriff's Office. Agent Childs served as a Narcotics Agent with Mid South Narcotics Drug Task Force. During his tenure at the Sheriff's Office, he was also attached to the Drug Enforcement Agency as a Task Force Agent from 1987 until 2003. He was also a member of the Special Response Team for Crisp County from 1985-2003.

Captain Childs spent from 2003 until 2022 in the private sector. Returning to the Sheriff's Office in March of 2022 assigned the rank of Captain to serve as the Jail Administrator. He is also a member of the Special Response Team. Captain Childs obtained an Associate of Science degree from Regents College of New York and has maintained numerous hours of extensive law enforcement training.