Uniform Patrol Division
Crisp County Sheriff's Office Uniform Patrol Division is made up of four squads that rotate shifts under the command of Captain Ben Bray and Lieutenant Bo Duckworth.
These squads provide 24/7 law enforcement response to the 22,881 residents of Crisp County. This division serves as the first line of law enforcement response for the 281 square miles of Crisp County. The responsibility of the Patrol Division is to maintain a safe and orderly environment for citizens and visitors in the area of Crisp County. The deputies are in constant contact with the public and answer a variety of calls. These calls can range from noise complaints to homicides. For this reason, deputies must have an in-depth knowledge of the law and be well versed in law enforcement practices and procedures. Our goal is to maintain a professional, highly trained and well-educated force of deputies who provide the community with the highest level of law enforcement service and protection.
The Patrol Division has a subdivision that is dedicated to Crisp Regional Hospital. The Hospital Division's primary responsibility is the security of Crisp Regional Hospital; but it also provides ancillary services to all facilities of Crisp Regional.
The Patrol Division also conducts many non-emergency activities such as: funeral escorts, after hours business security checks, and providing security for high-profile functions. They are the most visible police presence in the community. It is their job to provide primary law enforcement services to the public 24 hours a day, each and every day of the year.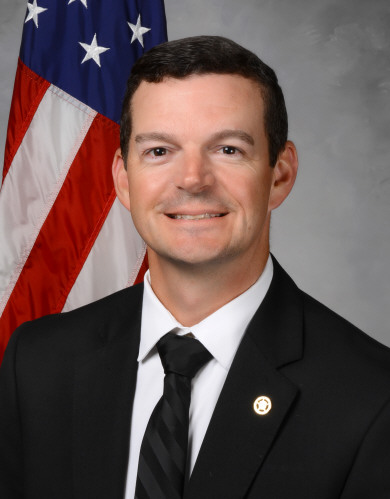 Uniform Patrol Division Captain: Ben Bray
Captain Ben Bray began his career with the Crisp County Sheriff's office in 1999 at just eighteen years old through an on-the-job training program with Crisp County High School as a Detention Officer. Captain Bray continued to work as a Detention Officer while attending Abraham Baldwin Agriculture College. In 2002 Captain Bray graduated from ABAC with a degree in Criminal Justice and also graduated from the ABAC Regional Police Academy that same year. Upon completing the Police Academy, Captain Bray continued to work in the Detention Center as a Corporal. In 2003 Captain Bray was transferred to the Uniform Patrol Division as a Deputy Sheriff. Captain Bray worked in the Uniform Patrol Division until he transferred to the Criminal Apprehension Team in 2009. While on the Criminal Apprehension Team, he was promoted to Corporal in 2012. Later in 2012, Captain Bray transferred to the Criminal Investigation Division, where he was promoted to Sargent First Class. Captain Bray spent ten years as an investigator working on various cases.
Captain Bray received specialized training in interviews and interrogations, cell phone forensics, and Internal Affairs investigations. In 2021 Captain Bray earned his certification as an Emergency Manager through Georgia Emergency Management / Homeland Security. In July of 2022, Captain Bray was promoted to 2nd Lieutenant in CID, and in November of 2022, Captain Bray was promoted to his current position of Captain of the Uniform Patrol Division.
Captain Bray has been recognized numerous times throughout his career. Captain Bray has been recognized by the Georgia Bureau of Investigation and received the Meritorious Award for his act of selflessness. On two occasions, Captain Bray has also been recognized as Officer of the Year. Once by the Crisp County Sheriff's Office and second by The District Attorney for the Cordele Judicial Circuit.