Uniform Patrol Division
Crisp County Sheriff's Office Uniform Patrol Division is made up of four squads that rotate shifts under the command of Captain Michael Fraser.
These squads provide 24/7 law enforcement response to the 22,881 residents of Crisp County. This division serves as the first line of law enforcement response for the 281 square miles of Crisp County. The responsibility of the Patrol Division is to maintain a safe and orderly environment for citizens and visitors in the area of Crisp County. The deputies are in constant contact with the public and answer a variety of calls. These calls can range from noise complaints to homicides. For this reason, deputies must have an in-depth knowledge of the law and be well versed in law enforcement practices and procedures. Our goal is to maintain a professional, highly trained and well-educated force of deputies who provide the community with the highest level of law enforcement service and protection.
The Patrol Division has a subdivision that is dedicated to Crisp Regional Hospital. The Hospital Division's primary responsibility is the security of Crisp Regional Hospital; but it also provides ancillary services to all facilities of Crisp Regional.
The Patrol Division also conducts many non-emergency activities such as: funeral escorts, after hours business security checks, and providing security for high-profile functions. They are the most visible police presence in the community. It is their job to provide primary law enforcement services to the public 24 hours a day, each and every day of the year.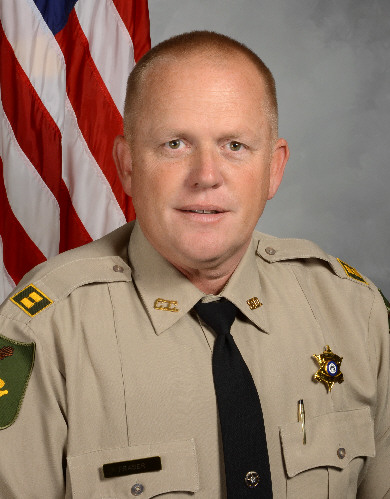 Patrol Division Captain: Michael Fraser
Captain Michael Fraser has dedicated twenty-five years to Crisp County Sheriff's Office. Following his graduation from ABAC Regional Police Academy in 1992, Fraser first served in the Detention Division before moving to the Patrol Division. He remained there until his transfer to the Training Division in December 2014. In January 2017, he was promoted to his current rank of Captain and transferred back to the Patrol Division as Division Commander.
Captain Michael Fraser is also responsible for our Special Response Team. Captain Fraser is a GA POST certified General Instructor, Firearms Instructor, Health and Wellness Instructor, Active Shooter Instructor and Taser CEW Instructor.
Captain Fraser is the recipient of Woodmen of the World's Woodmen Life Leadership Award 2016. In addition, he and K-9 Roscoe were awarded first place in Tracking at the 2017 South Georgia K-9/NNDDA Workshop.